Daily Archives:
April 14, 2019
JFAV UPDATES
April 14, 2019
RITES HELD FOR VETERANS
SAN BRUNO, California — "I won't forget the sufferings I experienced under the Japanese –hunger and other sufferings, as if I am again suffering when I remember those days," 96-year-old David Tejada said in Tagalog. 
Tejada is a Bataan Death March survivor of the 12th Signal Co., Philippine Scouts. He recalled his Death March experience as he attended the joint 77th Anniversary of  the Bataan Death March and 75th Anniversary of the Battle of Leyte Gulf at the Golden Gate National Cemetery in San Bruno, California last weekend
Probably one of the only few Bataan Death March survivors still living, Tejada is one of two or three veterans in the Bay Area who were in the 65-mile march from Bagac, Bataan to Camp O'Donnell in Capas, Tarlac.
Tejada was released conditionally but was later picked up by the Japanvand forced to drive a truck in a Japanese-held mining area until the liberation. He later rejoined the Philippine Scouts under the US Army.
Honored with Tejada were other WWII survivors: Alfonso Al Lamata, a San Francisco native who was 17-years-old when he was first assigned to Company D of the 2nd Filipino Infantry Battalion; Mickey Ganitch, now 99 years old and was in the USS Pennsylvania when Pearl Harbor was bombed on Dec. 7, 1941; Johnny Johnson Johngordon who was with the USS San Francisco, one of the most decorated ships with 17 battle stars.
Filipino Major General (ret,) Eldon Regua USA Army Reserve, the event's master of ceremony, estimated that of about 260,000 Filipino soldiers who served in WWII from 1941-46, some 13,000 are still living and serving examples to the estimated 60 junior cadets from local schools who attended the ceremony.
Keynote speaker Vice Admiral Linda Fagan, U.S. Coast Guard Commander of the Pacific Area, poignantly recalled that 75,000 Filipino and American troops in Bataan were surrendered to Japanese Army on April 9, 1942: "Over 1,600 Americans and about 16,000 Filipinos died of malnutrition, dysentery, and malaria. Leyte was the last major fleet engagement and it was in this battle that Japan's final naval force was paralyzed in this Battle of Leyte Gulf."
Fagan added that everyone should study the past as it is so important for "a better understanding of who we are as a nation, our common interests and our fellow humanity as we shape our shared futures together."
Bataan Legacy Historical Society executive director Cecilia Gaerlan reported in her speech that the implementation of the California Department of Education-approved 11th grade public school curriculum framework for the inclusion of World War II in the Philippines has yet to take place in the 66 high school districts and over 1,600 high schools in California.
"In the Bay Area there are some 15 schools in San Jose, Jefferson School District in Daly City, San Francisco Unified, Union city, San Leandro, among others have implemented the teaching of WWII in the Philippines," Gaerlan said. "This is just the beginning as 90 percent of the work remains to be done. We want this to be implemented throughout the country. It is after all a seminal part of U.S. history."
Gaerlan is optimistic though that things will move smoothly after the textbooks formally come out and distributed nationally incorporating the changes reflecting the inclusion in the California curriculum framework.
ADVERTISEMENT
Meanwhile, in another commemoration of the Bataan Death March in San Francisco by Justice for Filipino American WWII Veterans (JFAV), war veteran Porfirio Robea exhorted everyone to "Defend Bataan and the West Philippine Sea."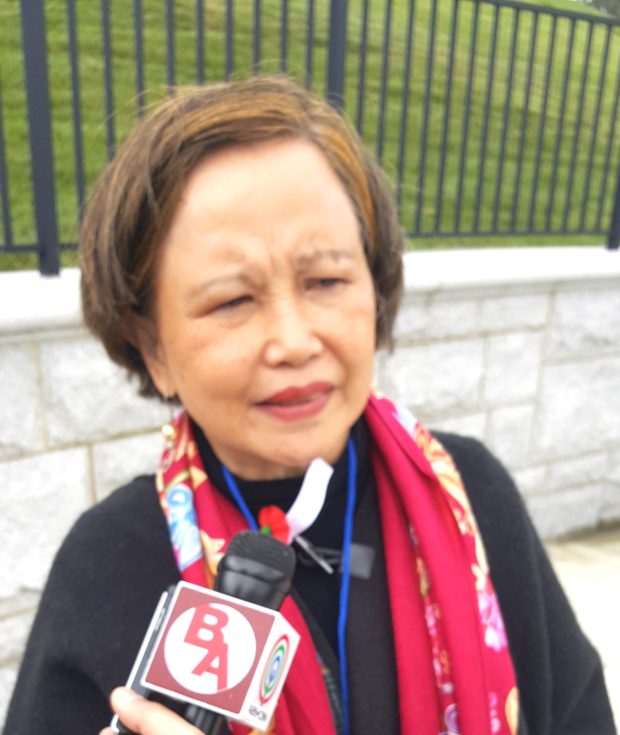 "I fought for Bataan and liberated the country from the enemies. It's because of the supreme sacrifice of veterans like my fallen comrades and me why you have a country that's rich in natural resources. Do not simply concede to China. The national territory in its totality is for our people and the future of our children. It's a source of economic sustenance, security and pride for our people," declared Robea.
"If you do not love and protect what you own, who else would? I will not live for so long but the memory and legacy of Bataan shall forever stay in history to remind you that there were people who refused to surrender— that there were people who chose freedom and bravely paid for it with our sacrifice without any regrets!" Robea said further.
END
###
JFAV UPDATES
April 13, 2019
BATAAN HAS FALLEN. BE NOT AFRAID
Speech by Captain Salvador P. Lopez, delivered by Lieutenant Normando Ildefonso Reyes on the Voice of Freedom broadcast at Malinta Tunnel, Corregidor Island on April 9, 1942.
Bataan has fallen. The Philippine-American troops on this war-ravaged and bloodstained peninsula have laid down their arms. With heads bloody but unbowed, they have yielded to the superior force and numbers of the enemy.
The world will long remember the epic struggle that Filipino and American soldiers put up in the jungle fastness and along the rugged coast of Bataan. They have stood up uncomplaining under the constant and grueling fire of the enemy for more that three months. Besieged on land and blockaded by sea, cut off from all sources of help in the Philippines and in America, the intrepid fighters have done all that human endurance could bear.
For what sustained them through all these months of incessant battle was a force that was more than merely physical. It was the force of an unconquerable faith – something in the heart and soul that physical hardship and adversity could not destroy! It was the thought of native land and all that it holds most dear, the thought of freedom and dignity and pride in these most priceless of all our human prerogatives.
The adversary, in the pride of his power and triumph, will credit our troops with nothing less than the courage and fortitude that his own troops have shown in battle. Our men have fought a brave and bitterly contested struggle. All the world will testify to the most superhuman endurance with which they stood up until the last in the face of overwhelming odds.
But the decision had to come. Men fighting under the banner of unshakable faith are made of something more that flesh, but they are not made of impervious steel. The flesh must yield at last, endurance melts away, and the end of the battle must come.
Bataan has fallen, but the spirit that made it stand – a beacon to all the liberty-loving peoples of the world – cannot fall!
All of us know the story of Easter Sunday. It was the triumph of light over darkness, life over death. It was the vindication of a seemingly unreasonable faith. It was the glorious resurrection of a leader, only three days before defeated and executed like a common felon.
Today, on the commemoration of that Resurrection, we can humbly and without presumption declare our faith and hope in our own resurrection, our own inevitable victory.
We, too, were betrayed by Judases. We were taken in the night by force of arms, and though we had done wrong to no man, our people were bound and delivered into the hands of our enemies. We have been with mock symbols of sovereignty, denied by weaklings, lashed with repeated oppression, tortured and starved. We have been given gall to drink, and we have shed our blood.
To those who look upon us from afar it must seem the Filipino people have descended into hell, into the valley of death. But we know that the patient and watching men who said their simple prayers in the hills of Bataan, have not lost faith, and we know that the hushed congregations in the churches throughout the land, drew from the gospel as Mass renewed hope in their resurrection. To all of them we give today the message of the angel of Easter morning: "Be not afraid, for He is risen."
We, too, shall rise. After we have paid the full price of our redemption, we shall return to show the scars of sacrifices that all may touch and believe. When the trumpets sound the hour we shall roll aside the stone before the tomb and the tyrant guards shall scatter in confusion.
No wall of stone shall then be strong enough to contain us, no human force shall suffice to hold us in subjection, we shall rise in the name of freedom and the East shall be alight with the glory of our liberation.
Until then, people of the Philippines, Be not afraid
END
###